Assisted Medicine is Just the Start. We're Building Lifestyle Medicine
18. 06. 2020
Assisted Medicine is Just the Start. We're Building Lifestyle Medicine
Miroslav Herden, the founder of the Czech network of laboratory chain SynLab, and his partners have spent the last three years acquiring clinics that offer in vitro fertilization (IVF) and associated services. He has big plans for the NEXTCLINICS network: To be the biggest player in the field. "Once you make an IVF clinic a purely investment project and approach it like a factory then it's not going to work," Herden says.
Was it a big change in your professional life when you went from the established Synlab chain of laboratories to building a network of healthcare providers?
At the end of the 1990s, when I was returning to life in the Czech Republic after years spent in Germany, I started building diagnostic machines that we supplied to laboratories. Since then, I've been getting closer and closer to patients. It's a logical step from this point of view.
Why did you take this step?
In terms of my work life, I've always been more interested in things that develop dynamically than established commodities. I know it doesn't sound right to call any part of healthcare a commodity. But today laboratories have been devalued from a dynamically-developing field to simply seeking savings. Quality is now set by various norms and certifications and the only competition is who can do it for less. As someone who spent the last 25 years constantly building something, that doesn't satisfy me. There isn't enough room for creativity and intuition.
Sometime in 2014, you and Synlab competed to participate in a PPP project (public-private partnership) to build a new hospital. Was that attempt your idea?
Yes. To take part in an investment into a hospital that would house the only transplant centre in the country would be a calling. I know that word is cliché, but it's true. I always sought to make sure that what I did would be more than just work or an investment. I never had the mindset of "invest one million, get ten back." I had a concept that I wanted to achieve. When I founded and started to build Synlab in 2005, our first big investment was the acquisition of Imumed, which represented what we are still developing today. It had a clinic connected to laboratories and together it made sense. Today, we are creating lifestyle medicine. It's not just assisted reproduction centres; that's just the beginning: It's a necessary part of what we are building and a door into our client community.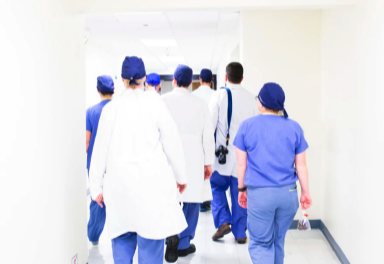 How did you start to build NEXTCLINICS as a European network of care providers?
When I was part of the international management of Synlab, I was responsible for IT and innovation. I looked at firms that were for sale and Synlab didn't want them. I made my selection over two years. I found the offer from Professor Karl Sterzik from Ulm. He's considered the founding father of assisted reproduction in Germany. I was able to win him over and today he is a co-owner and investor in NEXTCLINICS. His clinic is named the Kinderwunsch klinik, something like the Desired Child Clinic. Professor Sterzik claims that women that cannot become pregnant have excessive stress. For many, it begins with immunological and allergy problems. They have an unhealthy lifestyle and diet. There are many factors that can cause a woman to have trouble conceiving. Professor Sterzik offers several medical fields, wholistic medicine, fitness, and even yoga courses under one roof. Then he added plastic surgery, because a woman that gives birth after the age of 35 wants to look more beautiful than she did before the child. He also has a specialized laboratory focused on immunology and genetics. We met with Professor Sterzik over the course of about 6 months and it was one of the first assets NEXTCLINICS acquired.